■
24 November 2008 | 10:38 PM
There are advantages to being 6 feet tall. I don't play basketball or volleyball (much to everyone's disappointment), but I've always enjoyed having the height for runway. So when the second annual Virginia Fashion Week rolled around, I was pumped to hit the catwalk again.
Getting plugged into the fashion world in Virginia was kind of an accident for me. I did one bridal show when I first moved here, then that led to another show, and another, and the connections and shows kept rolling. Who would've thought Virginia was becoming a mini runway mecca? It's not New York, Miami or L.A - but yesterday's show brought in some impressive names and talent. The finale fashion show at the Ted Constant Center was the culmination of Virginia Fashion Week, an event conceived and produced by Ann Leister of Splash Model Management.
Overall, the show was quite the commitment - it was a 12-hour day filled with fittings, not nearly enough space backstage, waiting for make-up and hair, and trying to get where we needed to be, when we needed to be. Oh and did I mention a lot of waiting? But the experience was worth it; to meet the designers, admire their work and watch seven hours of pure runway fashion. I'm kicking myself for not talking more pictures!
One of the highlights for me, and bigger draws to the show was Johnathan Kayne, a top five contestant on Season 3 of Bravo TV's Project Runway. I am an AVID fan of Project Runway, so I was very excited to model in his collection. I was even more geeked when Johnathan showed up and agreed to do an impromptu video interview, even though he had been up very late the night before.
Check out the video:
We chatted about his formal dresses (pageant, prom and special occasion formal wear), which he is known for, as well as his shoe line and his new pet line called Kayne 9. (Canine? Get it?! Brilliant.) I also learned he's a huge Oklahoma Sooners fan and loves being based in Norman, Okla., because it's a halfway point to N.Y.C. and L.A. He was charming, super down-to-earth and completely grateful for his success in the fashion industry thus far. Backstage, he conversed and laughed with models and stylists, pinning and fitting his designs to work perfectly on each model.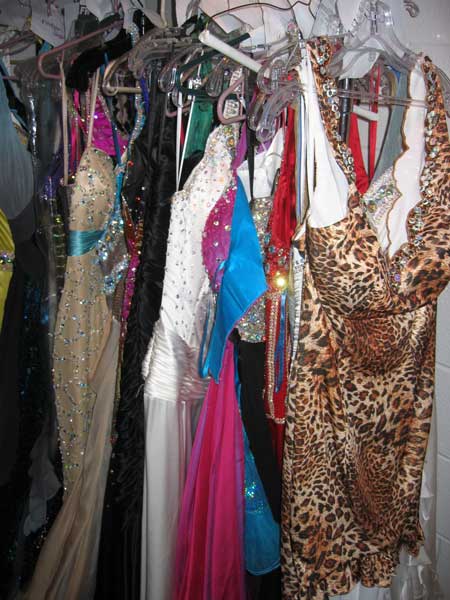 Johnathan's line was the last to show and probably the most fun because of the glam factor. Each dress had a lot of beadwork, embroidery and detail. (A pic of his line hanging on the rack backstage.) And here's a pic of Johnathan and I after the show in an oriental pink dress I wore from his collection. I took off my 4-inch stilettos so I wouldn't tower over him too much.
In addition to the hot pink number, I got to rock a stunning wedding gown by Maya Couture (Norfolk), a floor-length silver gown by Willie Hall (N.J.) and a short red dress from Macy's for the "Go Red for Women" scene (to raise awareness for heart disease). FYI for brides-to-be: head to Maya Couture to find THE dress. You won't be disappointed. They have the most gorgeous, one-of-a-kind wedding gowns....I could be a bride 365 days a year in their dresses. Sigh.
Other big names, "PR" contestant, Zulema Griffin (N.Y.), and Mathew Cashe (N.J.) were supposed to show, but canceled last minute. Bummer.
As far as local talent goes, I was really impressed with two local designers in particular. Stephon Stallings for Vintage Hazel (Newport News) and Phoenix Bess (Virginia). Stephon's Vintage Hazel line consisted of vintage couture fashions with an edge. Can we say super hot, hot pants with puff blouses? And Phoenix Bess, a 16 year-old designer, knits everything: leggings, dresses, scarves, hats, skirts, halter-tops, shrugs and stoles. The girl is a knitting master.
If you missed VA Fashion Week, catch it next year, it's the only fashion event of its kind here in Virginia.
Here's another video from the day:
Read Pilot fashion columnist Jamesetta Walker's review of the show.