■
02 April 2009 | 10:24 AM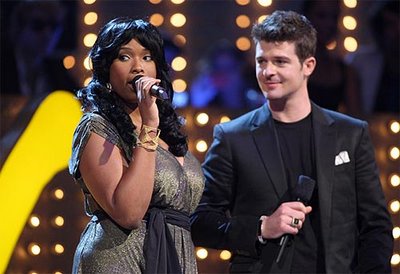 He revealed that they've been recording together in a phone interview recently. This is promising news, since their last collaboration "Wanna Love You Girl," was just the bee's knees.
Speaking of Robin Thicke, you've got just days to go before you can postmark your entry form to see him and Jennifer Hudson up close and personal (including a limo ride to dinner and meet-and-greet passes) on April 12.
Since I'm feeling especially generous today, let me help you out with some of the contest questions, eh?
What is Jennifer taking with her on tour? Hint: They're named after her awards.
And what celebrity am I deeply afraid of? Hint: If I ever saw him in person I would likely "Hustle and Flow" out of the back door because I do believe homeboy is seriously wackadoodle.
That help?
Register to win, and check out the new entertainment section Pulse!