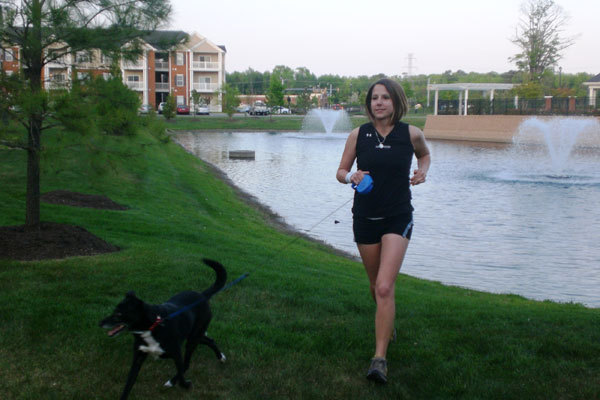 GREENBRIER
Ericka Umbarger could barely walk as a teenager. These days she runs – ultra marathons.
Umbarger's story of overcoming polyarticular juvenile rheumatoid arthritis is one of several chronicled in "The Ultimate Runner: Stories and Advice to Keep You Moving."
The 328-page book that will be released Monday highlights personal stories and firsthand accounts from runners at every level.
Umbarger, whose excerpt is titled "Finally, I Can," was the fastest girl in her school growing up in Lexington. An avid athlete, she participated in every sport she could find until the first hint of the disease at age 13.
It was during gymnastics practice when attempting a back ridge that her wrists became pained and refused to bend properly.
"My body easily felt like that of an 80-year-old," Umbarger writes. "I had to sit on the sidelines and watch everyone in gym class. My knees, hands, shoulders, hips and elbows were too swollen to allow me to play."
Within three weeks Umbarger, now 29, was diagnosed with polyarticular juvenile arthritis, which affects five or more joints and is similar to adult rheumatoid arthritis.
The joints, particularly the smaller ones in the hands, are generally affected symmetrically (on both sides).
Umbarger spent the next 10 years in a blur, constantly enduring pills, pain, braces, splints and X-rays. She became self-conscious because of her limp and the weight gain from the steroids that were part of her treatment. Bulimia and anorexia exacerbated the problem and lingered into her college days.
"I had to use a 2x4 as a cane," she said. "I couldn't hang out with my friends on the weekends because I was in too much pain.
Umbarger found a more supportive group in high school and a backpacking course reminded her of how much she missed the outdoors.
Still, serious running seemed out of the question until 2003 when Umbarger began taking a self-injectible biologic drug to go with anti-inflammatory medication and oral chemotherapy.
The pain didn't disappear, b ut the new medication regimen made it manageable, and Umbarger finally felt as if she had some control over her body and her life.
Within weeks, she finished her first 5K, stirring the competitive fires that drove her as a child.
"I'm very Type A," Umbarger said. "I knew if I started to run, I wouldn't stop. Arthritis had taken away 10 years of my running. I didn't want it taken away from me again."
From 5Ks she graduated to 10Ks and then half marathons. Umbarger trained for five months for the Richmond marathon in 2006. Even a stress fracture in her pelvic area a month before the race didn't deter her.
"I refused to have that dream taken from me," she writes.
Despite walking the final 10 miles, Umbarger finished the 26.2 miles in 4:09.18 and has since completed seven more marathons and four 50Ks.
She has also become passionate about educating others about the disability. Umbarger is a manager and counselor at the Choice Group, which provides support to those who encounter barriers to employment and independent living due to circumstances, which can include arthritis.
She also actively volunteers with several arthritis organizations and particularly enjoys working with young people who face many of the obstacles she endured.
"You hear all the time, 'You're too young to have arthritis,' " she said. "Sometimes it can be a hidden disability. People thought I was faking it. People think it's just aches and pains and don't take it very seriously. But the truth is, it can kill people."
Her own medical issues haven't gone away. Fourteen hand operations in 15 years have taken their toll. Both of her thumbs are fused, and in her right hand all of the joints have been replaced. She has limited mobility in both.
The infusions that kick- started her running career recently led to a reaction that left her unable to swallow. Her new regimen includes weekly Enbrel shots, chemotherapy and more painkillers.
Umbarger's doctors don't have a clear understanding of her determination to continue running. She explains it this way: "For me it's a quality of life issue. I would rather live the life I love rather than being stuck lying in a bed all the time."
- Vicki L. Friedman