■
21 June 2010 | 11:31 AM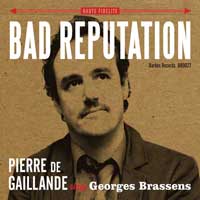 Upon first listen it sounds rather incongruous that New York-based Pierre de Gaillande's vocals are in English, the songs sound so soaked in lilting French musical styles, but then American music fans would miss the riveting poetry of iconic French singer-songwriter Georges Brassens (1921-81).
This two-year project found the California-raised singer-songwriter translating a number of Bras­sens' songs. The former member of the Morning Glories achieved a near-impossible goal of rendering Brassens' lyrics.
Backed by a small acoustic combo featuring sax and clarinet, de Gaillande talks/sings Brassens' painfully honest rants against mawkish sentimentality and bourgeois convention. The tunes, which recall the work of a Gallic Ray Davies or French-fried Tom Waits, are highly theatrical as de Gaillande inhabits each William Burroughs-like scenario.
For a compelling cache of songs rendered with heartfelt histrionics that shock, charm, swing and entertain, this disc makes good on its "Bad Reputation."
– Eric Feber, The Pilot
Tracks to download "Trumpets of Fortune and Fame," "The Pornographer"