■
16 November 2010 | 11:34 AM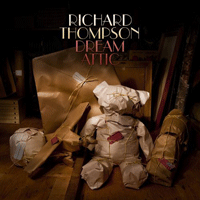 For longtime English folk-rock troubadour Richard Thompson was it monumental cheek or just supreme confidence that he recorded his latest album of new material live in front of audiences throughout the West Coast and Pacific Northwest? It was probably a little of the former and a lot of the latter.
The singer/songwriter/guitarist extraordinaire has been on a 40-plus-year tear, what with his work with Fairport Convention, that seminal English folk-rock group, along with collaborations with ex-wife Linda Thompson and his rich and varied solo career.
"Dream Attic" presents an accurate summation of Thompson's music. Backed by a fiery group of veterans anchored by violinist Joel Zifkin and saxophonist Pete Zorn, Thompson delights with his Celtic folk-rock spiced with dollops of blues and American roots. His literate songs include self-deprecating attacks, wry observations, dark murder ballads, withering sarcasm and melancholy moments.
With "Dream Attic," Richard Thompson proves that when he records live, it's the natural thing to do.
– Eric Feber, The Pilot
Tracks to download "Burning Man," "Crimescene"
Buy "Dream Attic"
(Link goes to Amazon.com)