■
16 March 2011 | 7:52 AM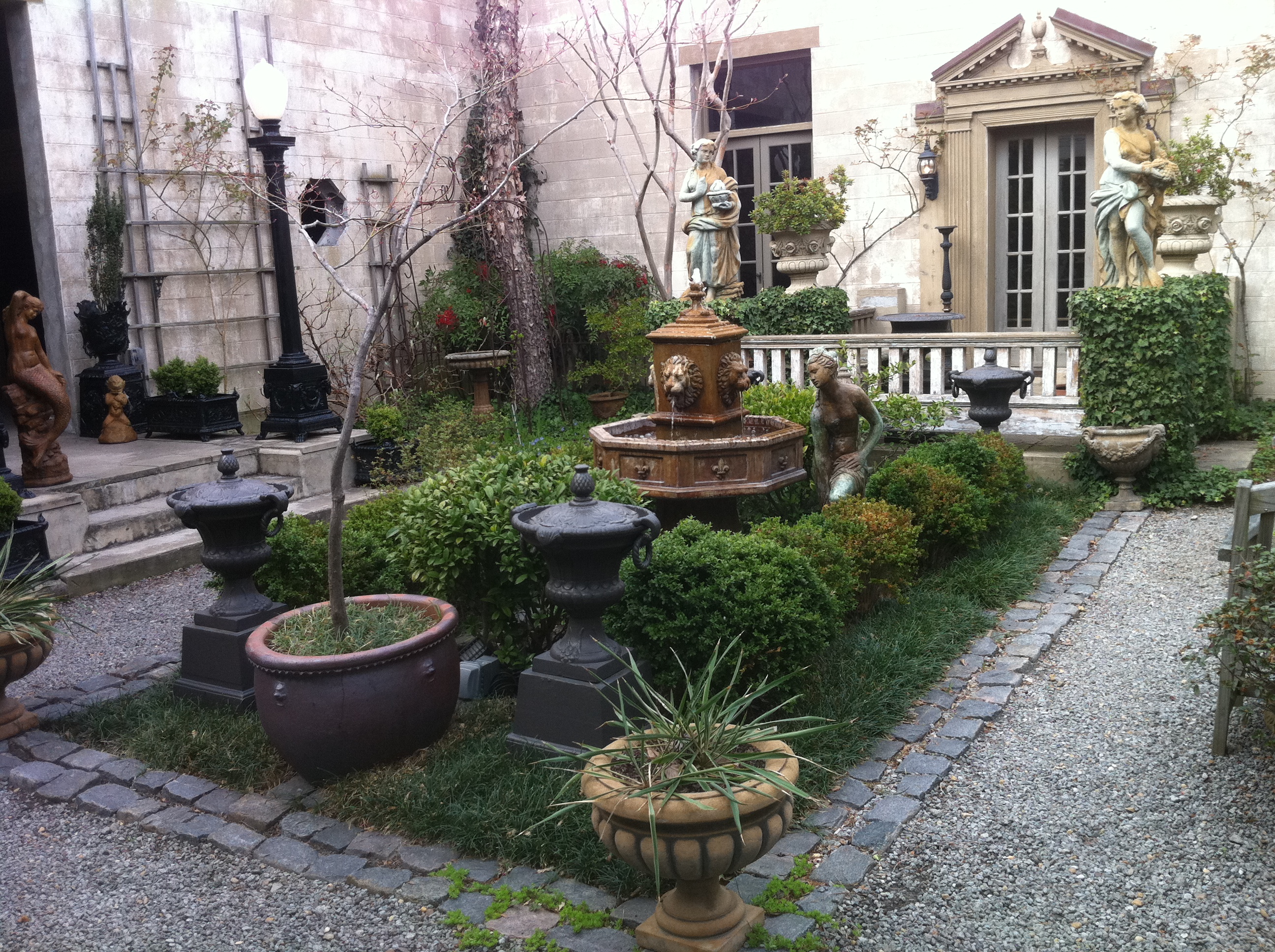 Many of the buildings in Olde Towne Portsmouth have these beautiful secret little courtyards. The ones you can't see from the street. Those gardens nestled behind the buildings. Anderson-Wright Rooms & Gardens is no exception.
The High Street business consists of a couple of buildings and a series of rooms arranged with the courtyard joining them.
Set around an enclosed courtyard, Anderson-Wright offers an extensive selection of decorative home and garden furnishings. These include cast iron urns, cast stone containers and statuary as well as cast iron and aluminum furnishings. The sound of the water from fountain transforms the courtyard a soothing and relaxing sanctuary.
Make no mistake; this is more than a garden courtyard to owner Bill Schlaht. It's actually his home as well. Schlaht lives upstairs above his store. He bought the run down High street building fifteen years ago. He rebuilt the bricks and mortar into, not only his retail business but, a lifestyle for himself. The courtyard is his showroom by day and a place for him to relax and enjoy in the evening.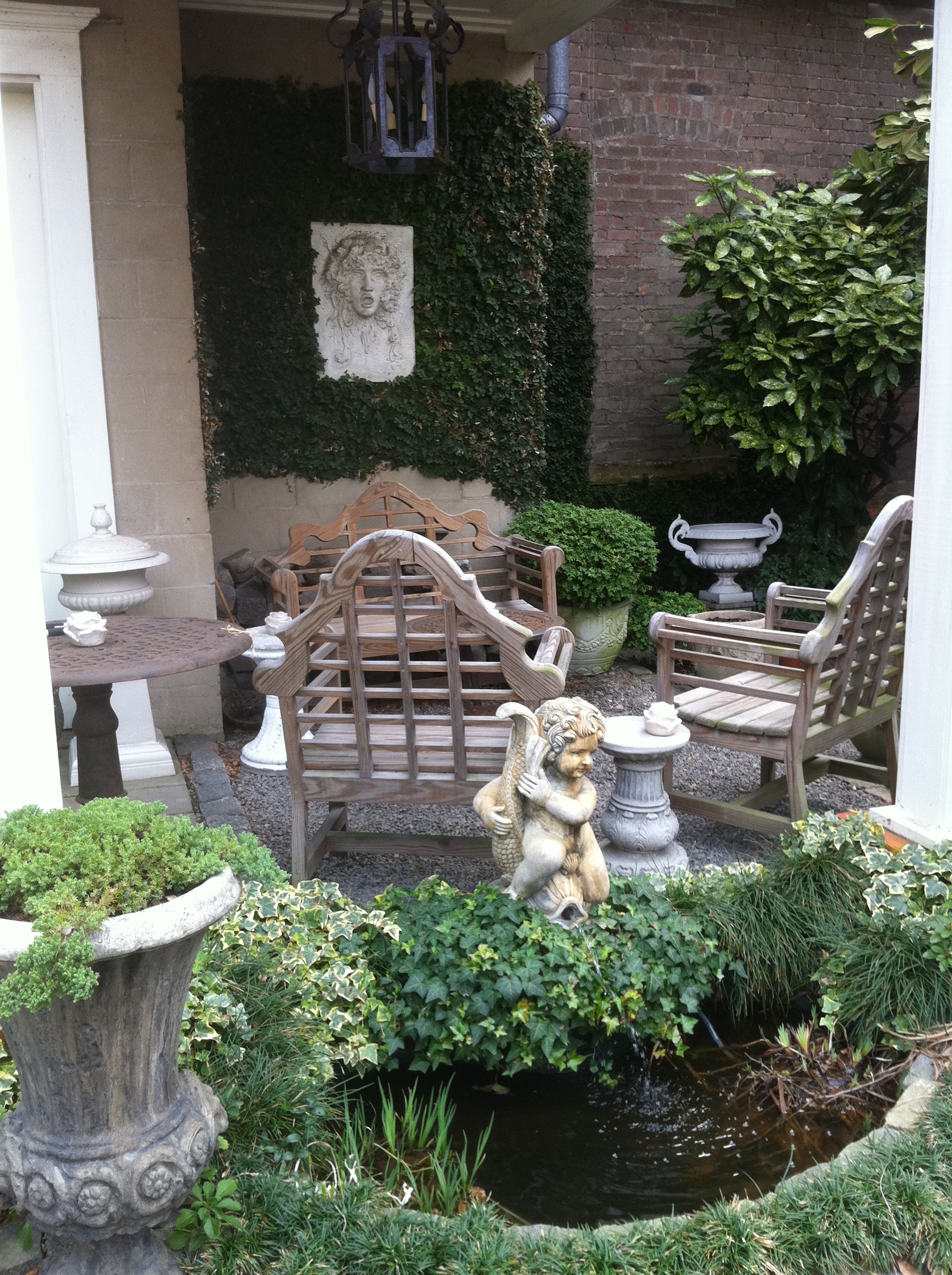 Anderson-Wright Rooms & Gardens is located at Devonshire Square, one of the 12 historic squares laid out in 1752 by Col. William Crawford, the city's founder. High Street was named for the main commercial corridor in Portsmouth, England. At that time, many shopkeepers lived above their stores and enjoyed a certain lifestyle. Today, Schlaht gets to enjoy an urban lifestyle of downtown living in Olde Towne Portsmouth.
Just going through the doors of Anderson-Wright Rooms & Gardens is an experience unto itself. This high-end store offers a fine selection of high quality garden furnishings and decorative accessories.
Upscale shoppers can browse a large selection of pottery and vases to complement any decor. Many of the items have an eclectic edge and international feel but are clearly intended for the elegant home.
You'll find an array of decorating items for home and garden. Their extensive section of garden decor, includes fountains, terra cotta animals, benches, urns an more. They sell decorative garden items and furnishings from statues, planters and wrought-iron decor.
Once inside, you can walk through the store to the garden. There you'll discover the lush greenery, water features and seating. There's a certain tranquility you'll find as you walk through the courtyard. Your mind will wander and think of all the ways you can re-create this warm and inviting environment for your own lifestyle. You can't buy this feeling. You have to create it. Just the way Bill Schlaht did.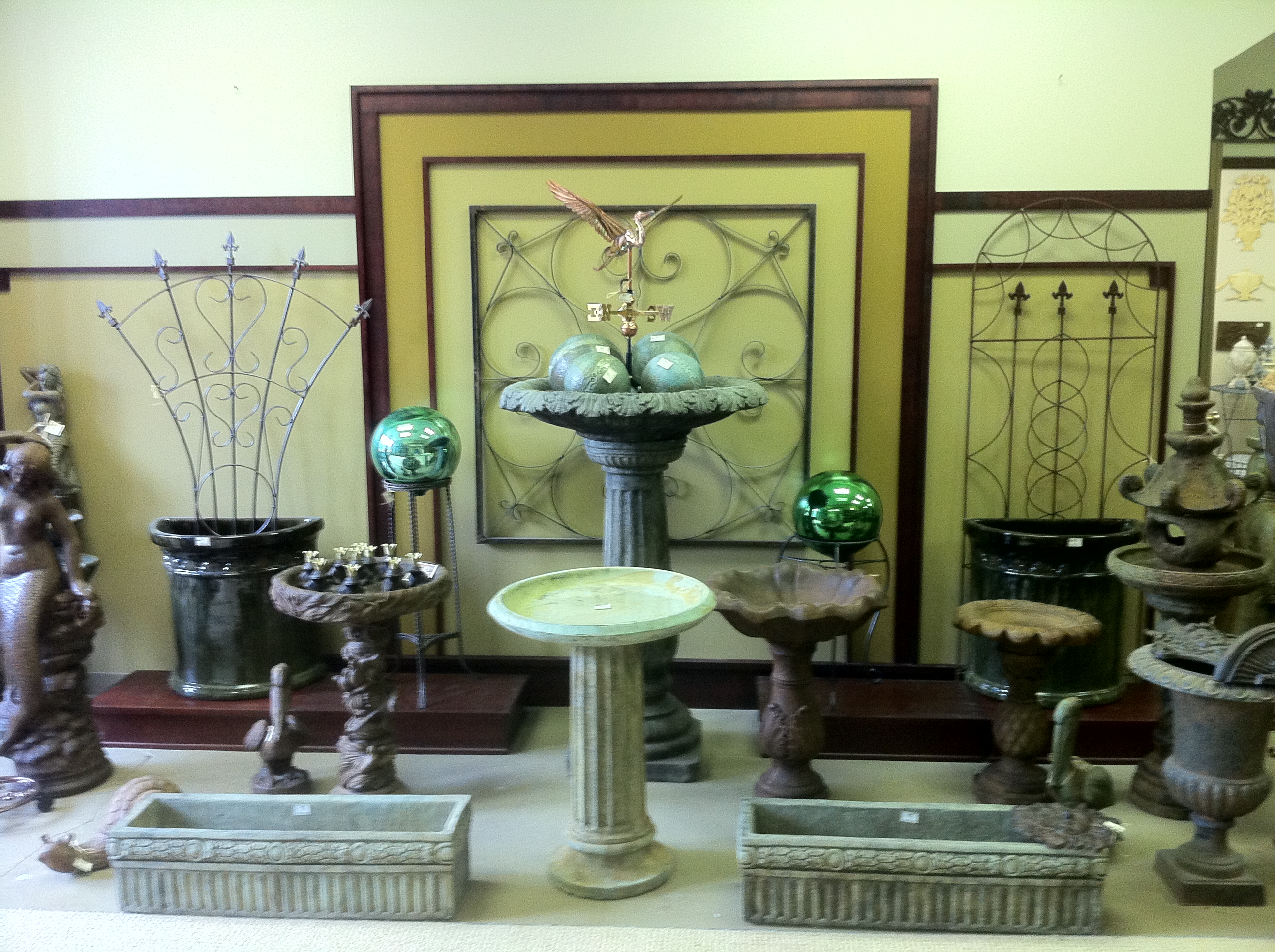 Ann Stokes makes a living creating outdoor living spaces. The renowned landscape architect and Norfolk native shares her picks for 'Hampton Road's Best Garden Shops' in the March 2011 issue of Southern Living magazine.
Anderson-Wright Rooms & Gardens was her selection for 'Decorative Garden Ornaments'. The full-page article features just four stores, with a sole half page photo devoted of Anderson-Wright Rooms & Gardens.
Stokes states in the article "Anderson-Wright is my go-to source for wrought iron, from trellises and gates to small decorative gargoyles". She notes that rust adds character. As a top landscape architect, Stokes designed Mary's Garden at the Chrysler Museum and created the master landscape plan for James Madison University in Harrisonburg.
Southern Living has a unique audience of interested consumers seeking information to enhance their lifestyles. With a circulation of 610,000, it sounds like Anderson-Wright's secret little garden in Olde Towne Portsmouth may not be a secret anymore.
About Anderson-Wright Rooms & Gardens
Anderson-Wright opened in August 1996. They celebrate their 15th year in Olde Towne Portsmouth this summer.
Anderson-Wright Rooms & Gardens represents the kind of store that is unique to Olde Towne Portsmouth. After you visit the first time, you'll be back not only to see the new merchandise. You'll see new creations as well.
The chances are we'll continue to see Anderson-Wright Rooms & Gardens to evolve - even after 15 years.
Anderson-Wright Rooms & Gardens, 622 High Street, Portsmouth, 23704. Hours: Tuesday thru Saturday 10 a.m. to 5 p.m. and Sunday 12 Noon to 4 p.m. Tel: 757.398.0990.
Photos by David Cartier.
Would you care to make a 'Comment' or want to 'Reply'? Click the 'Comment' button below. If you're not registered, just e-mail me, at David.Cartier@ANewDayInOldeTowne.com. I would be pleased to post your reply as a 'Comment' without using your name and e-address (your privacy will be maintained).
Many readers have asked how they can sign-up for our newsletter. Click here to register for Starboards next issue.
Thanks, for reading and sharing... 'A New Day in Olde Towne'.
Have a great day!
757.478.0056 | David.Cartier@ANewDayInOldeTowne.com