■
20 June 2011 | 12:41 PM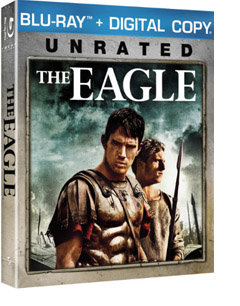 "THE EAGLE"
Blu-ray widescreen, DVD widescreen and digital copy, 2011, PG-13 and unrated versions (war violence)

Best extra: Besides a 10-minute high-def "making-of" featurette and a few throwaway online extras, there's only a commentary with the director
THIS DELIBERATELY PACED Roman epic, set near the beginning of the first millennium, didn't knock the socks off many critics – it only received a 40 percent rating on rottentomatoes.com, primarily for its perceived slow pacing and lack of action. Granted, it may lack the thrills-per-minute of "Gladiator" (or even the dialogue-challenged "300," for that matter). But if a good historical yarn is to your liking, give this one a chance. You might find yourself pleasantly surprised.
Beautifully directed by Kevin Macdonald ("The Last King of Scotland," "State of Play"), "Eagle" centers on Marcus Flavius Aquila, a young commander assigned to a garrison in Britain. His father commanded a legion of soldiers there 20 years ago while attempting to conquer the Celts, who lurk in the hills of the country's northern regions. The Romans' opponents proved too fierce, and the legion was never heard from again. An emblem of Roman victories, a golden eagle, was lost during that battle. After losing his command from injuries through an avoidable skirmish with the natives, Marcus, accompanied by newly acquired Celtic slave Esca, venture into enemy territory to get the eagle back.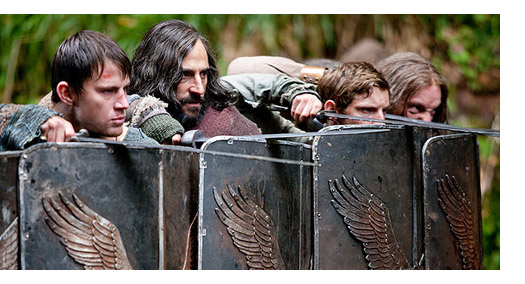 Channing Tatum as Marcus, and Jamie Bell as Esca, both do a wonderful job of demonstrating their character's motivations. The film covers much ground, touching on such topics as honor, legacies, the power of symbolism, heroism and survival. Plus, the film looks and sounds absolutely terrific on Blu-ray. From vast, gold and green rolling hills to craggy, uninviting rocky vistas and dark, wet forests, the crystal-clear transfer truly brings viewers right in the center of action. The DTS-HD soundtrack more than effectively augments the battle scenes, while not overplaying the quieter moments of the film (such as the distant bark of tracking dogs during chase scenes).
The Blu-ray and DVD includes the theatrical and an unrated version. The latter adds a few more minutes of footage, none of it objectionable. The disc also includes other features that are fast becoming standard practice: a digital copy, an app for viewing the film on smartphone, and an internet connection to view the production company's new trailers (yawn). There is supposedly a longer making-of featurette in the "exclusive content" section, but I couldn't get it to load after multiple attempts. (Maybe those of you with ultra high-speed connections will fare better.)
The few remaining extras include an alternate ending that's almost better than the original; about five minutes of deleted scenes; a 10-minute making-of featurette that touches on Tatum's training regimen and the harsh conditions in Scotland during shooting; plus feature commentary with the director. Speaking as slowly and thoughtfully as his film, Macdonald describes the research he conducted for historical accuracy, the lighting choices and how he handled his first big-budget battle scene under the constraints of a low budget.
— Carl Hott