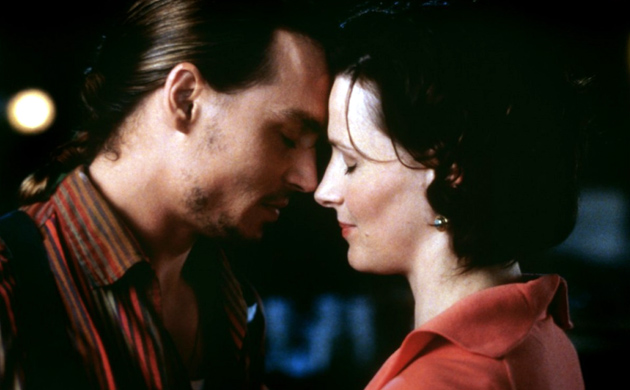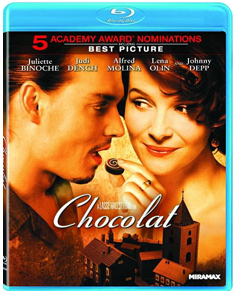 "CHOCOLAT"

Blu-ray widescreen, 2000, PG-13 for a scene of sensuality and some violence
Best extra: Don't miss commentary with director Lasse Hallström m and producers David Brown, Kit Golden and Leslie Holleran
JUST DAYS AFTER the great Academy Award success of "The Cider House Rules," director Lasse Hallström was hard at work selecting the cast for his next film. Nabbing names like Juliette Binoche, Johnny Depp, Judi Dench and Alfred Molina, the cast for "Chocolat" began to take shape.
Based on a book by Joanne Harris, this is a film about tradition, acceptance and courage in rural France. Strong characters and an enduring story is what drew the cast and crew to the film, they say in bonus feature, "The Making of 'Chocolat.'"
"This novel from Joanne Harris had a lot of very vivid and textured portrayals of women in her story," said Hallström. "They're all really wonderful role models for any contemporary woman."
Extras also include featurettes on costumes and production design and deleted scenes as well as the audio commentary with Hallström and producers. Not all audio commentaries are worth the time, but make sure to check this one out. The director and producers share tidbits from the book and behind-scenes anecdotes in a lively and organized way, touching on each scene's subtext and plotlines that didn't make the final cut. All bonus features are in standard definition and are not new to the Blu-ray.
Visually, this is a decent effort, although the film doesn't take full advantage of a Blu-rays full 1080p reproduction. Soft lenses and muted colors might help make it look more historical, but they also leave less of a visual punch. If you've already got this on DVD, I'm not sure the Blu-ray upgrade is worth it. The DTS-HD soundtrack has nice sound quality and Rachel Portman's original score sounds full and whimsical.
— Olivia Hubert-Allen