■
22 July 2011 | 11:35 AM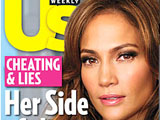 J-LO ALMOST BAILED SOONER: According to sources anonymously speaking out in this week's US Magazine cover story, Jennifer Lopez almost left Marc Anthony two years ago after he had a fling with a stewardess. Lopez almost left Anthony, but he begged her to stay, and they went to marriage counseling. Well, that explains a lot about his jealousy issues.
HOLY WALMART RECEIPT?: It seems a South Carolina couple - Gentry Lee Sutherland and Jacob Simmons - found Jesus at their local Walmart. After they paid for developing 12 photos, the couple received their receipt with Jesus's face on it. Said Gentry: "... who else has the power to put their face on a check-out receipt but Jesus?'"
DOHERTY'S REALITY TV: Shannen Doherty is about to hit the little screen again with a reality TV show tentatively titled "The Shannen Doherty Project." It will feature her and her fiance Kurt Iswarienko getting ready for their big day. Given Doherty's old-school, bad-girl rep, we can't wait to see her put all those amateur bridzillas to shame... too shaaaame!
OTIS TRIBUTE: Give a listen to Jay-Z and Kanye West's track honoring Otis Redding. It's called "Otis." It's a much anticipated drop, but it sounds raw to us: Otis feat. Otis Redding by watchthethrone
MORE HEADLINES
VIRAL ANIMAL VIDEO: Courage - or crazy? - of the day. Dog bites shark. Read the story. Watch:
ONE MORE SHOWBIZ MINUTE: Lindsay Lohan sued over spat with rehab worker; 'Twilight' stars surprise fans at Comic-Con; Ridley Scott: I'll never work without 3-D again.
GET SOCIAL WITH
CUBE CANDY: