■
13 September 2012 | 12:13 PM
What are your values?
Do you even have values?
You probably do, although, most people have never taken the time to literally put them on paper and then continue to live them each and every day. In the fitness industry, gyms have to be able to differentiate between themselves and make sure that the public's perception of you matches what you put out towards the public eye.
This matters so that a community understands who you are, who you are not, and what it is that you stand for. The exercise of putting this down on paper and going public with it can be done by people as individuals or businesses alike. It's been an important step for me at Meyer Fitness and I've just put the finishing touches on our very own Core Values banner for the gym.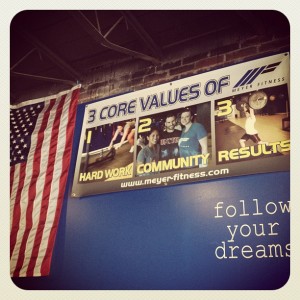 Being able to publicize your value set allows others to understand what their expectations should be of you, and helping to identify those expectations will help a business, or an individual, successfully target a specific audience that brings value to you.
Take a long look at the people you interact with each day. Do they add value or take it away from you? By first understanding your own value set, you can easily find out what is most important to you, and thus add happiness and peace of mind to your every day life.
I'm thankful each and every day for all of the great individuals that I get to share my life with at Meyer Fitness, and this banner was just a small symbol of gratitude for all of them.
Changing Lives Everyday,
Bill Meyer
Bill Meyer is considered the best personal trainer and strength coach in Norfolk, Virginia. For questions about fitness and health, please visit his website and/or email him at bill@meyer-fitness.com.