■
20 November 2012 | 1:17 PM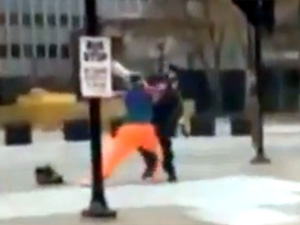 BRAWLING CLOWN AND POLICEMAN: Regular guy Mitch Cooper captured video of a clown chasing and brawling a police man in Milwaukee, Wis., and it now seems to be a a viral hit. Why did he feel the need to film? What was going through his head? "What's going through my head is a cop beating up a clown. How can I not capture this video and show it to all my friends?" Cooper told TV station WTSP. HuffPo.
CHARLIZE THERON GOES SHORT. REAL SHORT. Charlize Theron chopped off her blonde tresses earlier in the month for her role as Furiosa in Mad Max: Fury Road, where she stars opposite Tom Hardy in the fourth instalment of the films. However, the celebrity gossip world is wondering why she hasn't started growing it back. Does she really like it? Do you? Who cares?! We can't wait to see the film. Read more, see the pic Charlize Theron.
PUPPETEER RESIGNS OVER SEX ALLEGATIONS: Kevin Clash is out of there. Despite his accuser recanting, the Elmo puppeteer has resigned from Seasame Workshop. Probably doesn't help that another man has come forward to accuse Clash of having sex with him when the accuser was a minor. Read more on The Hollywood Reporter.
*GASP* HUMAN BARBIE A FAKE. Rumor is Human Barbie Valeria Lukyanova didn't just have plastic surgery. She also uses Photoshop to make herself appear more like the doll, they say. Is anyone at all surprised by this? That anything on the internet could be all smoke, mirrors, make up, the right pose and a little post-production tweak? Of course, she denies both charges. But even more fun than her photos is her logic. She recently said in a video that she tilts her head because her neck is too slender to support it. HHAHAHhahahahahaha!See the photos, read more on HuffPo.
'LIZ & DICK,' NOT WORTH WATCHING: Despite warnings (like - listen up! - this one) that viewers not waste their time on "Liz & Dick," lots of them will fall prey to their curiosity and flock to "Liz & Dick" when it airs Sunday at 9 p.m. It's not even bad enough to be good, according to The AP's reviewer. As a star and a sex symbol, Lindsay Lohan, who plays Elizabeth Taylor, is smaller-than-life, not larger... and she can't seem to get Liz's accent down. There's no love for Grant Bowler, who takes on the role of Richard Burton. Read the full review on HamptonRoads.com . Watch a clip for yourself:
'MODERN FAMILY' STARS STRUGGLE: The battle over who has custody of "Modern Family" star Ariel Winter continues. Will the 14-year-old stay with her sister or return to her mother, who has been accused of abuse? Or is it possible Winters has lied to gain independence from her mother? A judge is supposed to hear the case today. Read more on HamptonRoads.com. In the meantime, "Modern Family"'s cast and crew ban her mom from the "Modern Family" set:
TOLKEIN ESTATE SUES OVER MERCHANDISING: The Tolkein Estate is suing Warner Brothers over "Lord or the Ring" slot machines and other merchandise the estate consider's highly offensive. Hope they're not talking about the Hobbit slippers. Read or on The Hollywood Reporter. Seems the production company is having all sorts of Tolkein troubles lately. Director Peter Jackson's spokesperson confirms the report that several animals died during the filming of "The Hobbit." He says two cases could have been avoided. Watch:
DAVID BECKHAM DOESN'T JUST LOOK PRETTY. HE PLAYS SOCCER TOO: Just in case you follow David Beckham's sports career, he's leaving the L.A. Galaxy. Read more on The Hollywood Repoter.
MORE HEADLINES
ONE MORE SHOWBIZ MINUTE: Ariel Winter custody case continues; Hobbit animal deaths explained; 50 Cent to promote boxing.