■
22 January 2013 | 12:58 PM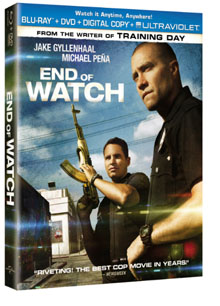 "END OF WATCH"
Blu-ray widescreen, DVD widescreen and Ultraviolet digital copy, 2012, R, strong violence, disturbing images, pervasive language including sexual references, drug use
Best extra: A relaxed, matter-of-fact commentary by writer-director David Ayer
IT'S A RISK cops on the street aren't supposed to take – stepping from behind the shielding doors of their cruisers to exchange gunfire with the bad guys – but "how can I see my heroes otherwise?" asks writer-director David Ayer.
His heroes. That's what "End of Watch" is all about, and that's why it's one of the best cop movies in years. In following the day-to-day life of two dedicated young officers working rugged, South Central L.A., Ayer, who wrote the Oscar-winning "Training Day," paints a flesh-and-blood portrait that resonates.
There are plenty of reasons why. Jake Gyllenhaal and Michael Pena have a natural chemistry as Taylor and Zavala, who become the targets of a drug cartel. Ayer grew up around South Central and knows the turf. He also has friends in law enforcement and was given access to the precinct house in the area's Newton community, the roughest of the rough.
Ayer also made an interesting production choice that adds to the authenticity.
The story plays out nonlinearly through found footage shot with dashboard cameras, camcorders, those little cameras officers wear on their uniforms and even night-vision goggles. It's not always consistent – there are scenes in which no one could be operating a camera – but it never feels gimmicky. In his commentary, Ayer says cell phones and YouTube have made everyone a filmmaker, and he wanted to replicate that intimacy when you film yourself.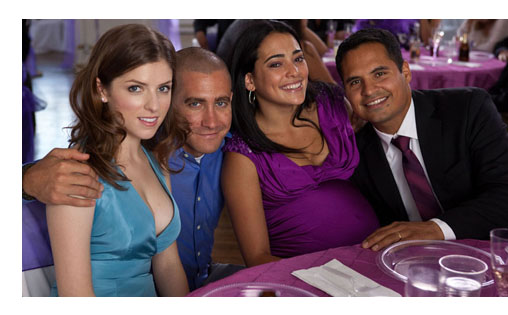 The flip side is it's not always conducive with the Blu-ray format. Still, the tradeoff is fair. The movie wouldn't feel as gritty otherwise. Besides, there are scenes, especially a slow, aerial pan of the city at night, that take full advantage of high-def's capabilities. The broad, deep audio track is solid throughout, moving from quiet moments in the patrol car to the mayhem on the streets without missing a beat.
Extras include deleted scenes and a multi-part, behind-the-scenes feature (in HD) that's pretty standard. But Ayer's commentary is all you need. A friend suggested doing a found-footage cop movie, but Ayer resisted because he didn't want to be pigeonholed. He had a change of heart after hearing stories from a friend who spent eight years as a patrolman and seeing video he and his colleagues shot on duty.
"It's fascinating to see video about cops shot by cops because they see their world through a totally different eye."
Good thing he changed his mind.
— Craig Shapiro