■
22 January 2013 | 7:13 PM
Opening night of our
Virginia Festival of Jewish Film
was magical, as it's been time and time again for the past twenty years. The magic is in the films. Each one hand-picked to inspire, educate and stimulate their viewers. We are fortunate to have such a fine festival in our midst. The festival runs for an entire week showing some of the most interesting Jewish films of our day.
Click
here
and/or scroll down for more information & Festival details.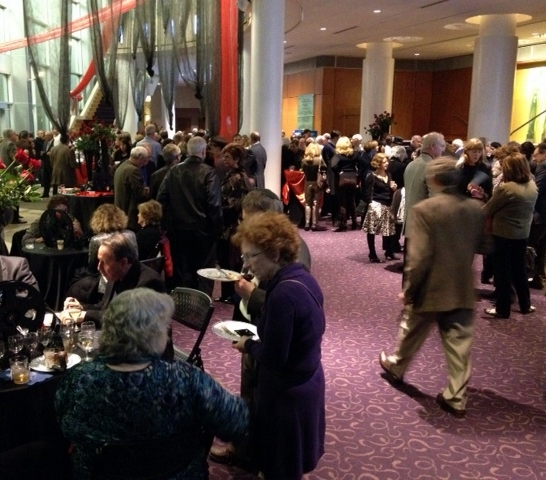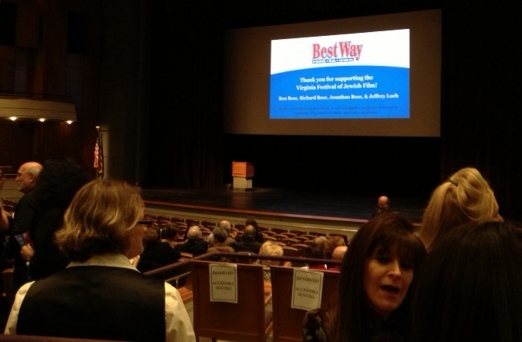 FROM THE PROMOTER:

January 19, 2013 – January 27, 2013
The Virginia Festival of Jewish Film celebrates and supports International Jewish film and filmmakers, presenting the newest and best films worldwide. The Festival brings together community and provides entertainment and education through various film genres. Mark these dates to come and celebrate the 20th Annual Virginia Festival of Jewish Film.

Buy your opening night ticket or your film festival pass today!
Opening Night $50, Includes Movie and Reception
Film Festival Pass $125, Includes opening night! A $140 value for 10 films, all parties and receptions.
Individual tickets available for purchase
Sandler Center for the Performing Arts
201 Market Street
Virginia Beach, VA 23462
TCC Roper Performing Arts Center
340 Granby Street
Norfolk, VA 23510
For additional information, contact Aimee Koller, Director of Cultural Arts at 757-321-2341
DATE/TIME

FILM & DESCRIPTION

Tues, Jan. 22
7pm

TCC Roper Performing Arts
Center


Yossi
by Eytan Fox. 2011, Israel, Hebrew with subtitles, 84 min
Tickets available at the door

Returning to the role that won him Toronto Film Festival Best Actor in Fox's Yossi and Jagger, Israeli actor Ohad Knoller gives another extraordinary performance as a closeted gay cardiologist living a solitary life in Tel Aviv, searching for happiness after losing a lover. Will Yossi be successful in his search for happiness?

Wed, Jan. 23
7pm

TCC Roper Performing Arts
Center

Free Men
by Ismael Ferroukhi. 2011, France, French with subtitles, 99 min
Tickets available at the door

Free Men takes place in Nazi occupied Paris in 1942, with an unusual story about the efforts by Muslim North African residents of the city to protect Jews and aid in the Resistance. Experience the evolution of young Algerian immigrant, Younes, from illiterate factory worker to full-fledged freedom fighter.

Thur, Jan. 24
7pm

TCC Roper Performing Arts
Center

Mal Vincent's Pick!
(Reception catered by
Village Caterers)


Yentl
by Barbara Streisand. 1983, USA, English, 134 min
Tickets: $10

Nominated for four Academy Awards
Local Movie Guru and Entertainment editor for The Virginian-Pilot, Mal Vincent will introduce his hand-picked movie for the 20th Virginia Festival of Jewish Film presented by Alma* and Howard Laderberg. Based on Isaac Bashevis Singer's Yentl, the Yiddish Boy, this musical tells the story of a young woman who wants nothing more than to study religious scripture. She is denied that possibility because she is a woman.

Stay and talk to Mal at the post-film party in his honor.

Sat, Jan. 26
7pm

TCC Roper Performing Arts


Center


AKA Doc Pomus
by Peter Miller & Will Hechter. 2012, Canada, English, 99 min.
Tickets: $10

"Save the Last Dance" and "This Magic Moment" are only two of over 1000 songs written by Jerome Felder, better known as Doc Pomus. This highly entertaining biographical film tells the story of one of the great founders of rock 'n roll, who took the pop music scene by storm in the late 1950's and 1960's.

Sun, Jan. 27


2pm

TCC Roper Performing Arts
Center
(in partnership with Holocaust
Commission)

Six Million and One
by David Fisher. 2012, Israel English and German and Hebrew with subtitles, 93 min.
Tickets: $10

Past, present and future mix in this eloquent, intense and surprisingly humorous portrait of documentary filmmaker David Fisher and his siblings, as they retrace the footsteps of their late father—a Holocaust survivor who was interned in Gusen and Gunskirchen, Austria. It is an emotional journey for these siblings, who sometimes engage in heated conversations. In the film's most moving scene, two American veterans who liberated the camps share their memories. These veterans will be our guests after this screening.

Sun, Jan. 27


7pm

TCC Roper Performing Arts
Center (Closing Night
Reception catered by
TCC)

Leon The Pig Farmer
by Vadim Jean & Gary Sinyor. 1992, Britain, English, 104 min.
Tickets: $10

BACK BY POPULAR DEMAND! This pleasant British comedy played 20 years ago at our very first Festival. Leon discovers that, instead of being Jewish as he had thought, his birth parents are indeed pig farmers. Sorry, but BLT's will not be served at the post-film party.
Many thanks to everyone for our continued successful Film Festivals!
Please be sure to thank our sponsors, whose generosity help make the Film Festival possible.
Passionate about Cultural Arts?
Become a Patron of the Arts, providing essential funding for Cultural Arts programming.
We are always looking for volunteer assistance for Cultural arts programming.

Contact our Director of Cultural Arts, Aimee Koller, akoller@simonfamilyj.org or 757-321-2304.