■
06 November 2015 | 3:34 PM
Denver Broncos running back Ronnie Hillman has popped up on the injury list, and he will join wide receivers Brandon Marshall and T.Y. Hilton as questionable for games this weekend.
Hillman (pictured below) hurt his thigh in practice Thursday and, while he returned to the field today, he didn't do enough to earn a probable tag, according to Rotoworld. The good news is, according to the Denver Post, he is still expected to play Sunday at Indianapolis. But keep an eye on his status Sunday. He had his best fantasy game of the season last week (60 rushing yards, 2 TDs, 18 fantasy points) against Green Bay.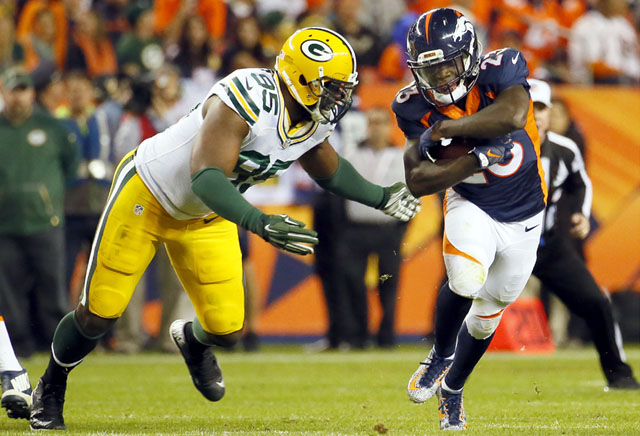 Marshall was limited in practice Thursday and today with toe and ankle ailments after taking Wednesday off. The Jets are hopeful he will play Sunday against Jacksonville.
Hilton is the biggest question mark of the three. He hasn't practiced all week with an injured foot. He's looking doubtful for a 4:25 p.m. start Sunday. He has a bad match-up against Denver anyway, so if you own Hilton and have other options, you're probably better off going with them.
Here's an update on a few other players dealing with injuries:
* DeSean Jackson, WR, Washington: He said this week that he plans to play Sunday at New England, but he's been limited with a nagging hamstring issue and is listed as questionable. If he does play, it is a good match-up because the Patriots have given up points to wide receivers (24.7) and the Redskins will likely have to throw the ball more to keep up with Tom Brady and company.
* Dez Bryant, WR, Dallas: He's been limited in practice this week as he continues to recover from a foot injury, but is listed as probable for Sunday night's game against Philadelphia.
* Stefon Diggs, WR, Minnesota: He missed some practice time this week with a hamstring issue, but is listed as probable for Sunday's game against St. Louis.
* Austin Seferian-Jenkins, TE, Tampa Bay: He practiced in full today after being limited Wednesday and Thursday, but remains questionable with a shoulder injury. If he plays, he has a great match-up against the Giants, who have allowed the second-most tight end points (11.4) this season. His return would also take some pressure off wideout Mike Evans.
* Sammy Watkins, WR, Buffalo: He missed practice today with an ankle injury, but said he expects to play Sunday, according to ESPN. He's missed four games already this season. If you plug him in your lineup, double-check and make sure he's active Sunday against Miami.
* Marcus Mariota, QB, Tennessee: He's been named the starter for Sunday's game at New Orleans after missing the past two games with a knee injury.
* Kendall Wright, WR, Tennessee: Here's the bad news for Mariota. Wright has been ruled out for Week 9 with a knee injury. It's an MCL issue, so it could be a multi-week injury. Look for Dorial Green-Beckham to be used more in the passing game.
* Eric Decker, WR, New York Jets: He practiced in full today despite a knee issue and is listed as probable.
* Julian Edelman, WR, New England: He's been limited in practice this week with a knee issue, but is listed as probable.
Photo by The Associated Press
Follow me on Twitter for the latest fantasy news and daily updates.
Click here for more blog posts.