High School Sports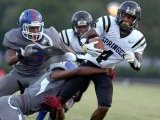 Highland Springs 49, No. 5 Norview 21
12:02 am
- The Springers scored on their first five possessions en route to the big win. "I knew they were a great football team," Norview coach Dealton Cotton said.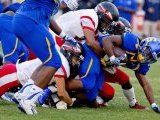 No. 2 Oscar Smith 42, Nansemond River 0
11:50 pm
- With only one returning starter on defense, Oscar Smith won its 75th in a row over Southeastern District opponents. The Tigers haven't lost to a Chesapeake or Suffolk team since 2006.
SPECIAL FEATURES
2014-15 All-Tidewater Teams
Fall sports previews
TOP 10 TEAMS
757TEAMZ Videos
VIEW VIDEO LARGER

CLOSE VIDEO

Your photos: High school sports
Upcoming Schedules
Saturday, September 5
CROSS COUNTRY
Nansemond-Suffolk at Newport News Invite, TBA
FOOTBALL
Booker T. Washington at John Marshall, 1 p.m.
Fredericksburg Christian at Norfolk Academy, 1 p.m.
BOYS VOLLEYBALL
King's Fork at Western Branch, 7 p.m.
Salem at Richmond Tournament
GIRLS VOLLEYBALL
First Colonial at TBD Tournament at RVC
Nansemond-Suffolk at Ricmond Volleyball Showcase, TBA
Salem at Richmond Tournament, TBA
High School Sports News

Larry Rubama
High school sports

Jami Frankenberry
High school sports
Poll
Nansemond River visits No. 2 Oscar Smith on Friday in a Southeastern District football showdown. Who's your pick?
Disclaimer: This is an unscientific sampling of users. Poll results may not update instantaneously, but your vote will be counted.