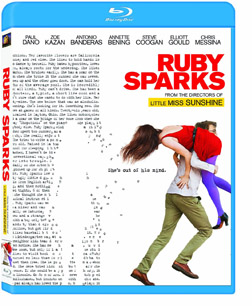 "RUBY SPARKS"
Blu-ray widescreen, DVD widescreen, 2012, R for language including some sexual references, and for some drug use
Best extra: "The Story" about writer/actress Zoe Kazan's plot and theme
WHAT A THOROUGHLY entertaining 104 minutes of movie watching "Ruby Sparks" is.
From Calvin's (Paul Dano) reaction to physically creating the product of his desires and imagination to the quirky relationship between Annette Bening and Antonio Banderas as Calvin's mom and step-dad, this flick brings a smile; it also makes you think.
That's thanks to Zoe Kazan, granddaughter of the late/great Elia Kazan ("On the Waterfront" and "A Streetcar Named Desire" [1]), who not only plays Ruby, she wrote the script about the need people have to control their significant other and how far they will go for that control.
In this case, Dano plays Calvin Weir-Fields, an author who wrote the Great American Novel at 19, and then hit writer's block. When his shrink (played by Elliott Gould) convinces him to start writing about the woman he is dreaming about, the impossible happens – she comes to life and Calvin can make her do anything just by writing about it. A scene where he and his brother (Chris Messina) figure it out and make Ruby speak French is perfection. The road to the climax is heartfelt, sweet and a bit cheesy in spots, like the "falling-in-love" montage with Calvin and Ruby. Still, the climax is be heart-wrenching.
Although shot digitally, the movie still has that 35mm look. The high-definition release from 20th Century Fox is even and detailed. Several night scenes lose nothing given the lack of lighting, and the close-ups of Kazan and Dano exquisite.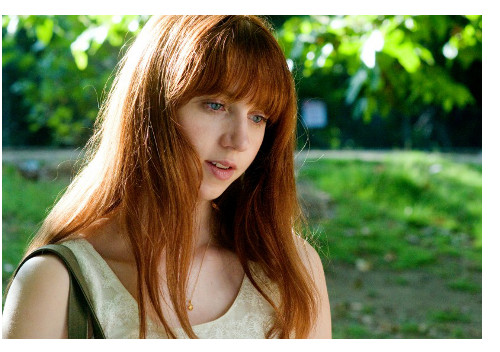 The DTS-HD Master Audio 5.1 mix focuses mostly on the dialogue between the characters, but occasionally, the score penned by Nick Urata raises emotions.
Unfortunately, the high-definition bonuses don't add up to more than 20 minutes, minus the theatrical trailer. Kazan and Dano should have had a commentary, as well as directors Valerie Faris and Jonathan Dayton ("Little Miss Sunshine").
Still, we get a glimpse of the impetus, the thought-processes behind the movie in "The Story," "The Cast," "Be Careful What You Wish For" and "Los Angeles: The Other Character." We discover how Calvin's house represents where he is in his head, why Kazan wanted to make L.A. "human-size" in the film and why "to be in love, I think, is incredibly powerful and very, very difficult," as Kazan says.
In "Real Life Couples," viewers get to see how the directors, a couple, and the main actors, a couple, worked together and with each other in making the movie. Kazan and Dano also talk about how different Ruby and Calvin are from Zoe and Paul. Still, you wonder how couples can spend all day working together, then go home be normal.
"Ruby Sparks" is definitely one to watch; too bad it didn't get more exposure when it was in theaters, but that's what is great about Blu-ray and DVD releases.
— Toni Guagenti