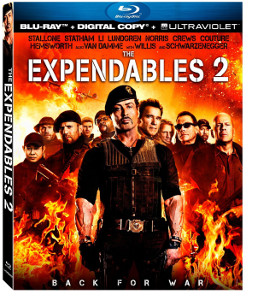 "THE EXPENDABLES 2"
Blu-ray widescreen, DVD widescreen and UltraViolet digital copy, 2012, R for strong bloody violence throughout
Best extra: "Gods of War: Assembling Earth's Mightiest Antiheroes," an interview with Sylvester Stallone (HD)
THE OLD-SCHOOL heroes are back: Stallone, Van Damme, Norris, Li, Willis, Statham and Schwarzenegger.
Sylvester Stallone, King of the B-Movies, kick started "The Expendables" franchise in 2010, playing the ultimate triple threat – actor/writer/director for a film that became a brainless blockbuster with a surprise gross over $275 million worldwide. Now, Stallone hands the director's keys to Simon West ("Con Air," "Lara Croft: Tomb Raider"), while banging out the screenplay and returning as Barney, leader of this gang of 'Good Guy' misfits: Christmas (Jason Statham) Gunner (Dolph Lundgren), Yin Yang (Jet Li), Toll Road (Randy Couture) and Hale Caesar (Terry Crews). Newcomers include Billy the Kid (Liam Hemsworth) an ex-military sniper, and Chinese computer wiz Maggie (Yu Nan). Church (Bruce Willis), Trench (Arnold Schwarzenegger) and Booker (Chuck Norris) all show up at the right time to give Barney's gang a shot in the arm with abundance of fire power.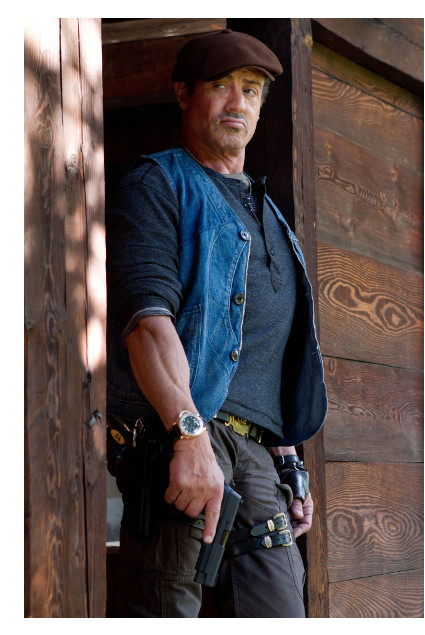 The plot is thin. The Good Guys work for CIA operative Church and although it's not clear why, it really doesn't matter. The movie opens with a video-game style invasion of a village where the guys gun down everything that moves. One of my favorite actors here is Flint, played by Michigan native Terry Crews, known for his work in the Old Spice commercials in which he shouts, "Power!"
Kickboxing great Jean-Claude Van Damme plays the Eastern European villain who's trying to get his hands on some Russian plutonium buried in a mine. The action culminates with a bloody hand-to-hand combat between Van Damme and Stallone.
This is a must-watch on Blu-ray, where flames, tanks and helicopters roar in high-def – a perfect flick for GUYS. The uncompressed soundtrack has a powerful punch, giving your subwoofer a REAL KICK.
The HD features reveal the crazy film schedule in Bulgaria and the difficulties getting the all-star cast together on the same movie set. West did his best to kept Stallone, Schwarzenegger and Willis in the same frame to maximize the onscreen star power. During his commentary West seems frustrated by the limited budget, forgetting he's trapped in Stallone's B-Movie world, where everything is done on the cheap. In one scene the music is intense, the muscles flex and the Expendables stare down the villains, but the only real action is one Van Damme kick.
An HD featurette "Big Guns, Bigger Heroes: The 1980s and the Rise of the Action Film" is about the U.S.A. needing heroes to admire after Vietnam and Watergate. Naturally, they were white men with big muscles and guns who were often skilled in martial arts. This documentary examines the effect of American culture and politics on action heroes. Ronald Reagan is held up as the American hero who fostered the film action hero of the 1980s. Interestingly, Stallone, Schwarzenegger, Norris and Willis are all Republicans – atypical for Hollywood as a whole. Statham is British. It's unclear whether Dolph Lundgren cares about politics, but it's fun seeing "the Russian" from Stallone's "Rocky IV" (1985) with high-def wrinkles.
Alas, action heroes aren't real. Although the ones in "Expendables 2" simply cannot be struck by endless gunfire, that wasn't the case in real life. An explosion during filming killed a stuntman and seriously injured another.
— Patrick Wilson