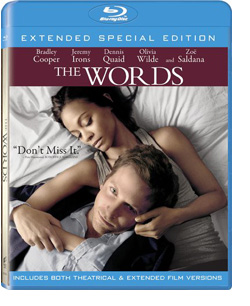 "THE WORDS: EXTENDED SPECIAL EDITION"
Blu-ray widescreen and DVD widescreen, 2012, PG-13 for brief strong language and smoking
Best extra: "Unabridged: A Look Behind the Scenes of 'The Words'" in HD
THIS SIMPLE DRAMA provides an entertaining evening. There's no bang-'em up scenes, gratuitous sex or raunchy humor – it flows rationally, leaving us interested in its characters – even if the screenplay written by childhood friends Brian Klugman and Lee Sternthal leaves something unfulfilled at the end.
The Blu-ray quality is excellent. Its clarity shines as the story goes from World War II Paris to modern day New York City, while HD detail provides richness to the beaten up, leather satchel holding the manuscript that launches Rory Jansen's (Bradley Cooper, "The Hangover" [1]) literary career. Unpublished writer Jansen finds the manuscript and, when his girlfriend (Zoe Saldana, "Avatar" [2]) mistakes it for Jansen's writing, circumstance ends up seeing the work published under his name. The book becomes a big success and all seems well until a mysterious stranger (Jeremy Irons) appears.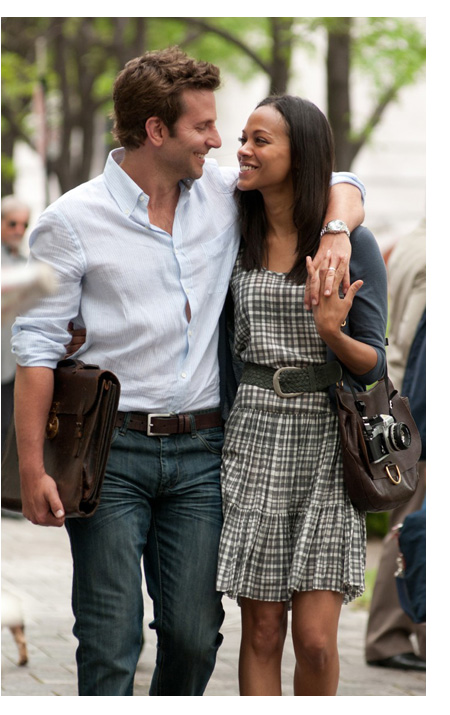 The DTS-HD soundtrack delivers plenty of emotion, sometimes bordering on eerie. This is a dialogue-driven film, so the rear channels are used to provide background city noises, crowd interactions, and office atmosphere.
A commentary with the writers and Cooper would have been a plus, given that the three have known each other since pre-puberty, but it is not to be. Klugman and Cooper met when they were 10; Sternthal then met Cooper at Klugman's bar mitzvah. We would have also enjoyed an interview with Jeremy Irons, who plays the Old Man, as well.
The script had been around for more than a decade, finally coming to CBS Films. The HD featurette "Unabridged: A Look Behind the Scenes of 'The Words'" features cast and crew, who provide behind-scenes storytelling, including filming the World War II Paris scenes in Montreal, and the story of Cooper/Klugman/Sternthal relationship. "A Gentleman's Agreement" featurette also highlights their relationship as well as the teamwork behind writing the script.
The remaining two HD bonuses are: "Clay and Daniella" about the characters played by Dennis Quaid and Olivia Wilde, and "The Young Man and Celia" about the characters played by Ben Barnes and Nora Arnezeder. The disc includes an extended version that adds about six minutes to the storyline and also pushes the language into the R-rated territory.
— Toni Guagenti