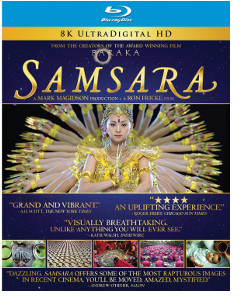 "SAMSARA"
Blu-ray widescreen (8K UltraDigital HD) and DVD widescreen, 2011, PG-13 for some disturbing images
Best extra: "Behind the Scenes" in HD
RON FRICKE, who was cinematographer for the ground-breaking "Koyaanisqatsi," [1] went on to direct his own films with similar aesthetics, including "Chronos" and "Baraka." All of these were conceptually-based, without story or dialogue, and completely reliant on image and music. His latest, "Samsara," which is a Sanskrit word that loosely translates as the cycle of birth, death and rebirth, is an absolute knockout. Fricke and his small crew spent five years visiting 25 countries on five continents, relying on intuition and a poet's eye to capture the striking footage that comprises this film. From exotic Indonesian dancers, to Filipino prison inmates doing what looks like Zumba exercises in perfect unison; devastating scenes of Hurricane Katrina's wrath, to the manufacturing of Japanese sex dolls, Fricke casts a wide net over man-made beauty as well as the weirdness, cruelty and ugliness of our over-consumptive world.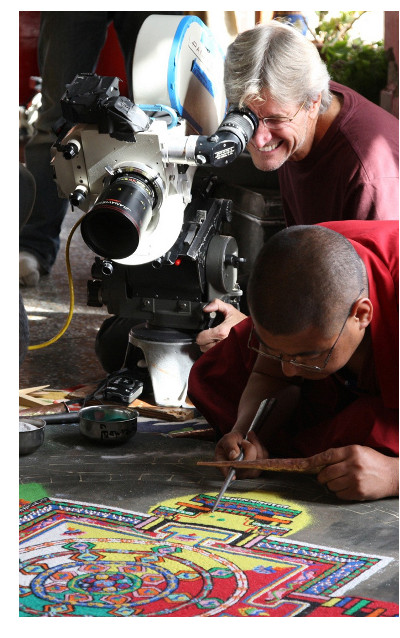 The spectacular cinematography is shown to great advantage on this disc. It was shot on 70mm film and, as noted on the case, "mastered in 8K UltraDigital HD." The depth of field and intensity of color, as well as the incredible sharpness of image and details, will impress even the most jaded TV viewer. Scenes of Tibetan monks creating a sand mandala will make you feel as though you are literally looking over their shoulders as they gently tap slender brass horns to release a few colored grains at a time. The soundtrack is a major contributor to the effect of "Samsara," with a haunting score composed by Michael Stearns, Marcello De Francisci and the wonderful Lisa Gerrard, whose recognizable voice is often heard. Heard in HD, it provides just the backdrop to give you goose-bumps. Wow.
The only extra on the disc is a multi-part "Behind the Scenes," feature that is extremely interesting. In it, Fricke says he conceived of "Samsara" as a "non-verbal guided meditation." Co-editors, producers, cinematographers, all have their say about the terrific cohesion of their group as they traveled far and wide, dragging hundreds of pounds of gear with them. The composers came on board after the film was completely edited and were given a luxurious six months to work on the score. Gerrard thanks Fricke for hiring her to work on "Baraka," her first experience scoring a film, which began her successful career ("Whale Rider"; "The Insider"; and, of course, "Gladiator").
— Peggy Earle