"FUN SIZE"
Blu-ray widescreen, DVD widescreen, and UltraViolet digital copy, 2012, PG-13 for crude and suggestive material, partying and language
Best extra: "Unwrapped: The Making of 'Fun Size,'" a fairly rapid look at filming during a summer in Cleveland
MAX WERNER'S SCREENPLAY with Josh Schwartz's direction resurrects 1987's "Adventures in Babysitting," but not quite as well as the classic Christopher Columbus ("Home Alone" and "Harry Potter and the Sorcerer's Stone") flick starring Elisabeth Shue.
Still, the movie by Nickelodeon Movies starring teen star Victoria Justice ("Victorious," "Zoey 101"), has its funny moments when Wren (Justice) loses precocious baby brother Albert (Jackson Nicoll) at a neighborhood haunted house in Cleveland.
Accompanied by her one-track-mind best friend, April (Jane Levy, "Suburgatory"), and two geeks played by Thomas Mann and Osric Chau, Wren tries to do the right thing by watching her brother while her mom (Chelsea Handler) goes through a sort of mid-life crisis after the death of her husband, Wren and Albert's father. The two somehow end up at the house of the coolest guy in school for the PARTY OF THE CENTURY.
Even though "Fun Size" has a predictable plot, it's a fairly entertaining jaunt through Halloween night, trying to track down an 8-year-old with plans of his own.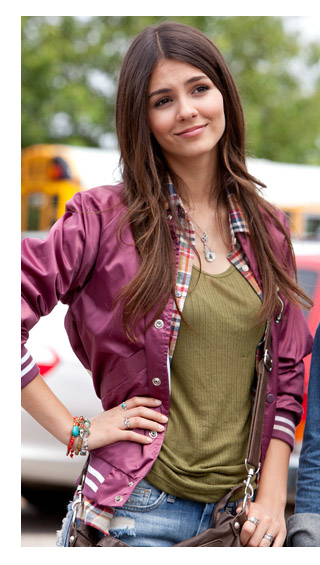 The Blu-ray quality from Paramount is spot on, with no disconcerting anomalies or banding; colors are realistic, lighting is natural-looking even while mostly filmed at night. The DTS-HD soundtrack delivers on all channels, especially during a raucous party in a basement. The music, as is typical with Nickelodeon releases aimed at teens, plays perfectly in the rear channels when dialogue is prevalent, and ramps up when certain scenes need it.
One of the featured songs is "This Kiss" by Canadian singer Carly Rae Jepsen, who hit the charts with "Call Me Maybe." Jepsen's HD music video is an extra as is a short on making the video.
The other high-def extras are short and typical, including the making-of, in which cast and director talk about the hot summer making the movie in Cleveland, a gag reel, four deleted scenes and another quick look at the actor who plays Albert through brief interviews with the cast, Schwartz and the little man himself, who likes to pinch Justice's butt.
— Toni Guagenti